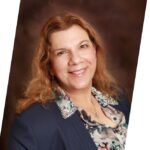 We are very excited to announce that as a precursor to discussion about legal issues surrounding FDA's dietary supplements, Angela Bazigos of Touchstone Technologies, Inc. will be joining the stream to educate us about proliferation of Artificial Intelligence ("AI") into current regulatory landscape.  Members of international trade community will gain the unique introduction into workings of AI.  This knowledge will help businesses understand how can agencies use the data scrutinize their business practices.
Angela Bazigos is experienced veteran in Life Sciences and Healthcare Industries, including her work with Food and Drug Administration, not the least of which include co-authorship of FDA regulatory guidance.  Her impressive bio is available at https://touchstonetsv.com/about-us.
The stream will take place through Vimeo Platform. No registration is necessary to attend, just follow the link below. If would like to ask questions through chat, please login through web browser or download Vimeo App for iOS or Vimeo App for Android.
Hope to see you there!